By Sharon Atkins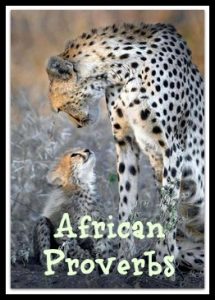 You get great Chinese proverbs, English Proverbs and proverbs from the Bible but I am just loving the proverbs we find in my own continent of Africa.
A proverb is a saying that gives advice in an obscure way. They are little tidbits of wisdom that you can use to apply to a situation that you might find yourself in.
 Read through some of my favourites and enjoy the richness and wisdom of the African culture.
It takes a whole village to raise a child
A man without culture is like a zebra without stripes
If stretching were wealth, the cat would be rich
However long the night, the dawn will break
Where there is love there is no darkness
Do not insult a crocodile while your feet are still in the water
Hold a true friend with both hands
Children are the reward of life
A family tie is like a tree, it can bend but it cannot break
Sticks in a bundle are unbreakable
It takes a village to raise a child
Cross the river in a crowd and the crocodile won't eat you
Many hands make light work
If you want to go quickly, go alone. If you want to go far, go together
If you don't stand for something, you will fall for anything
Do not look where you fell, but where you slipped
Wisdom is wealth
Wisdom is like a baobab tree; no one individual can embrace it
Learning expands great soul
To get lost is to learn the way.
By crawling a child learns to stand.
The strength of the crocodile is the water
The warmth of a rock is known only by the lizard (which lies on it)
He who does not look ahead always remains behind
You'll never know the worth of water until the well is dry
 If you can't hold children in your arms, please hold them in your heart
 The laughter of a child lights up the house
A roaring lion kills no game
The lion does not turn around when a small dog barks
The best time to plant a tree is 20 years ago. The second best time is now
The fool speaks, the wise man listens
Wisdom does not come overnight
Wisdom is like fire. People take it from each other.
Only a wise person can solve a difficult problem
Knowledge without wisdom is like water in the sand
A wise person will always find a way
Nobody is born wise
A man who uses force is afraid of reasoning
Wisdom is not like money to be tied up and hidden
Learning expands great souls
To get lost is to learn the way.
By crawling a child learns to stand.
The word of friend makes you cry – the word of an enemy makes you laugh.
A small house will hold a hundred friends
Hold a true friend with both hands
Give thanks for a little and you will find a lot
When elephants fight it is the grass that suffers
A chattering bird builds no nest
And last but not least and also very relevant to us today-
If you think that you are too small to make a difference,  try sleeping with a mosquito