"What you put on your body is just as important as what you put in your body."
I love natural products- food, beauty, bath, skin, supplements and health natural products.
We are so bombarded with chemicals and toxins in the air around us, in the food we eat, in the water we drink and what we put on our skins. That is why, where I can I choose to go the natural route.
This is the least I can do to take care of myself and my body. To be kind to myself and gentle on the world.
I met a guy recently who is even more passionate about natural health than I am. He walks the walk and talks the talk. The guy is John and he and a business partner have a company and website called ItWorkx.
"It is perhaps fitting that the two men who are behind It Workx have surnames that are reminiscent of the natural world that they respect so much. Edgar Wolf and John Mann have long recognised the amazing healing and nutritional powers of plant extracts."
What sets them apart from many of their competitors is their determination to produce products that are as close as possible to the natural ingredients, as found in nature. Couple that with a commitment to excellence in production, and an adherence to the best possible manufacturing practices, and you have products that really live up to their name.
Both Edgar and John have a simple philosophy in all aspects of their business. They get out of bed every morning, with the sole purpose of trying that day to help towards healing people. That's their first priority – everything else is secondary.
It Workx – because they really do!
What they are known for/ their flagship products—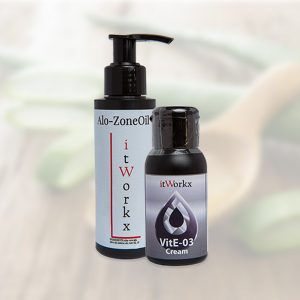 Alo-Zone is a major help to those suffering from psoriasis and eczema and been known to also help relieve those suffering from skin cancer and burns.
Vit-E O3's anti-inflammatory and moisturising properties heal scars, prevent dry, rough, scaly or itchy skin and ease the symptoms of psoriasis, eczema, nappy rash, skin burns from radiation therapy etc.
Natural products for healing and health that really work.
Check out the ItWorkx Website and the products in their online Store.
This post is not sponsored.